Hi, I have a little hanging that I want to share with you today.
I stamped the little octopus first, then masked it off. I then used a border stamp from a 1920's themed set with red ink. I used a Tim Holtz stencil and a cheap yellow inkpad to make the background before removing the mask. I then used a weather border stamp (from the same set as the octopus) to make a second border 'behind' the stenciled panel. Therefore, I made a one-layer card with the impression of several different layers.
I would like to enter this card into the following challenges:
intaas
#87 Tiny things (octopus and weather border)
CCM
#260 Make your own background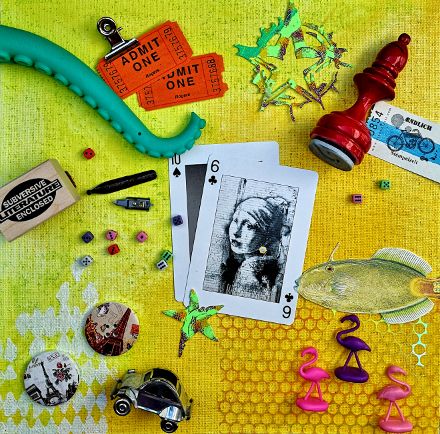 I also have a book review for you today.
Scarlet Odyssy by C.T. Rwizi
Salo lives in a culture where only women can become mystics and wield magic, men are expected to become warriors and learn to use weapons to protect their tribe. However, Salo's mum was the clan mystic and since she died the clan has been without. Salo became interested in magic trying to find answers to his mums behaviour, and he became shunned by his tribe as he failed to pass the test of manhood. However, when an outsider mystic attacks the clan and kills Salo's best friend he must acknowledge his magical talents and reveal himself to the world. Due to the stigma surrounding mystics Salo is sent on a journey as soon as he awakens, which sets him against strong forces, but allows him to meet unusual friends also. This is a fast paced book that keeps you enthralled until the very last page. Unfortunately it is only the first of two books, and the second book has not yet been released. I would certainly recommend this book if you like magical fantasy.
Thanks for looking,
Hugz Tinz